10/8: New this week at Smoke Signals Online…
This week at Smoke Signals Online, the net's premier smoking fetish site, we've added 598 new photos and 16 minutes of new video.
In the photo galleries, Sara P. smokes a Marlboro 100 at the makeup table, with great snaps, mouth and nose exhales, and smoke rings as she watches herself in the mirror. And Debby smokes corks as she reads the Kama Sutra, and then relaxes in lingerie, with deep drags, conventional mouth and nose exhales, and lots of dangles.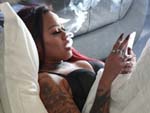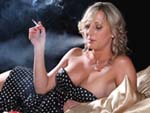 In the video galleries, we got good response once again to our shoot with popular web model Bee (aka Ms. Death Bee) so we prevailed upon her to do a smoky masturbation shoot for us. She came through with more great Marlboro 100 smoking as she plays, using her fingers and then a vibrator, including deep drags, big open-mouth inhales and snaps, and strong cone exhales.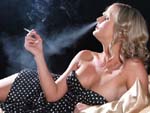 You can see a sample clip here.
Come join us!